Press Release
Sunday, November 5 2017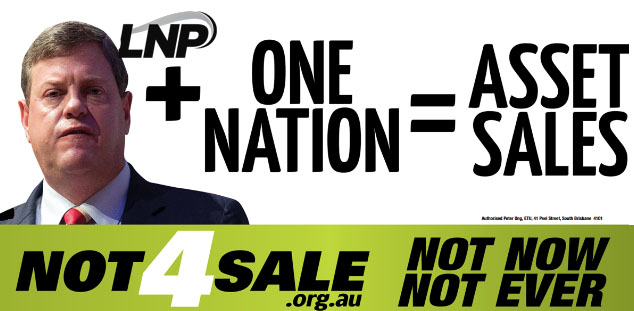 Tim Nicholls' generator demerger plan is an unnecessary duplication of resources which will send Queensland's power prices surging like they did under the last LNP Government, the Not4Sale campaign said today.
Campaign spokesman Stuart Traill said the demerger of Stanwell and CS Energy into three companies would see an unnecessary 33 per cent increase in operating costs. Under the AER's mandatory ring fencing guidelines each generator is required to be totally self-sufficient, requiring all the support staff and resources of a separate company.
"This plan will only hit Queenslanders harder in the hip pocket than the 43 per cent power price increases we saw in less than three years under the last LNP Government," Mr Traill said.
"It's a wasteful proposal right out of Nicholls' time as Treasurer when he fattened up the GOCs for asset sales.
"In fact, the only plausible explanation for this unnecessary duplication is that Mr Nicholls' wants three generators rather than two that he can hawk off to the LNP's big business mates for sale."
Mr Traill said the plan stood in stark contrast to the current Palaszczuk Government which had kept assets in public hands and eliminated unnecessary waste and duplication by merging the state's electricity distributors.
"This is just another reminder that Tim Nicholls and the LNP have zero credibility on electricity prices," he said.
"The best way Queenslanders can protect themselves from power price rises is to keep our power assets in public hands. And the only way to do that is to put the LNP and One Nation last."