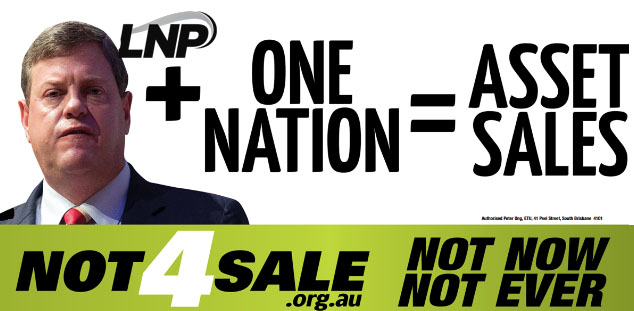 One Nation leave asset sales on the table in hung parliament negotiations
The Not4Sale campaign says One Nation have shown their hand by leaving asset sales on the negotiating table in the eventuation of a hung parliament.
One Nation leader Steve Dickson listed five "deal breaking" policies to Fairfax Media he would demand support for from a coalition partner in the event of a hung parliament, but did not mention asset sales.
Not4Sale Campaign Spokesman Stuart Traill said the failure to name privatisation as a deal breaking policy from a coalition partner was further proof One Nation would support asset sales if told to by the LNP.
"We have seen time and time again in the federal senate One Nation go against their own policy positions in order to support the Turnbull Government – whether it is betraying their stance on foreign investment in approving the sale of Kidman Station to Chinese investors, or backtracking on calls for a royal commission into banks," Mr Traill said.
"Once One Nation get into power they push their few pet projects through media stunts and then spend the rest of Parliament rubberstamping the LNP's anti-worker policy agenda. Figures show One Nation Senators vote for Turnbull Government policy more than any other party.
"Put simply One Nation will betray any and all of their policy positions in order to share power with their ideological partners in the LNP – including asset sales."
The only way Queenslanders can be sure their assets are protected from sale is to put the LNP and One Nation both last.
"Tim Nicholls has to fund $550 million budget shortfall from his payroll tax cut somewhere, and if he isn't going to force redundancies and he isn't going to raise taxes the only 'Strong Choice' left on the table is asset sales," Mr Traill said.
For further information please contact: Stuart Traill 0488 225 625 or Dan Nancarrow 0448 633 858