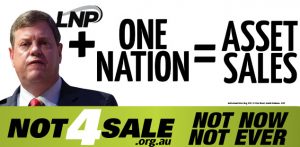 The community campaign credited with toppling Campbell Newman's one-term Government will kick off again in Brisbane's northern suburbs tomorrow by warning residents of the threat a LNP and One Nation Coalition government would pose to Queensland assets.
The Not4Sale community campaign successfully stopped the LNP Government's plans to "lease" public assets at the last Queensland election in 2015. Now the architect of those privatisation plans, Newman's Treasurer Tim Nicholls, is leading the LNP into the upcoming state election.
Electrical Trades Union Organiser Stuart Traill said the Not4Sale campaign would remind voters Mr Nicholls could not be trusted to protect the state's assets, as he had long been an advocate of privatisation.
"Tim Nicholls stood infront of the Queensland public as Treasurer three years ago and advocated for the privatisation of the state's electricity assets as the only way forward for Queensland," Mr Traill said.
"Mr Nicholls has tried to distance himself from his advocacy of asset sales since becoming LNP leader, but the Queensland won't be fooled by his empty rhetoric. They know privatisation is hardwired into the DNA of the LNP and it is especially hardwired into the DNA of Tim Nicholls."
Mr Traill said it was incredibly concerning the leadership team of the One Nation party – Steve Dickson and Sam Cox – were two former LNP MPs who had also advocated for asset sales while they were Members of the Newman Government.
"It is clear both One Nation and the LNP cannot be trusted to protect Queensland's assets," he said.
"With Dickson and Cox's track record of asset sale advocacy, it is only a matter of time before a One Nation and LNP Coalition Government sells off our electricity assets for good."
Not4Sale campaigners will be speaking to residents in Kurwongbah tomorrow about the threat both parties pose to Queensland's assets, Mr Traill said.
For further information please contact: Stuart Traill 0488 225 625 or Dan Nancarrow 0448 633 858