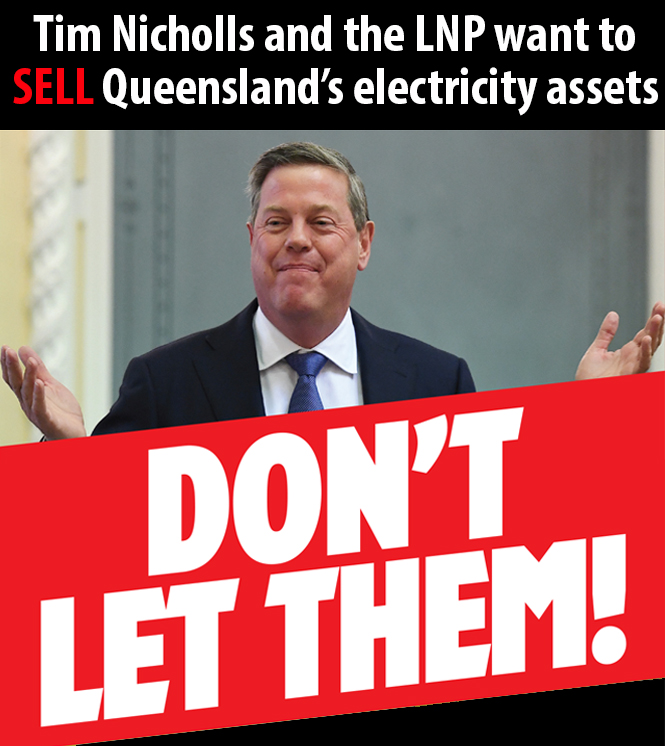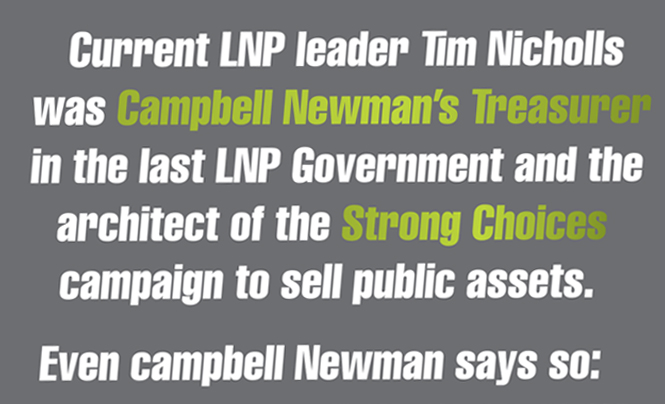 Leaders take responsibility for hard decisions that have to be made-I did. Time for@TimNichollsMP who drove asset sales & cuts #qldpol

— Campbell Newman (@CampbellNewman) March 7, 2017
If @TimNichollsMP had no role in the policies of my govt (yeh right !) what are his policies now and how do they differ ? #qldpol

— Campbell Newman (@CampbellNewman) March 7, 2017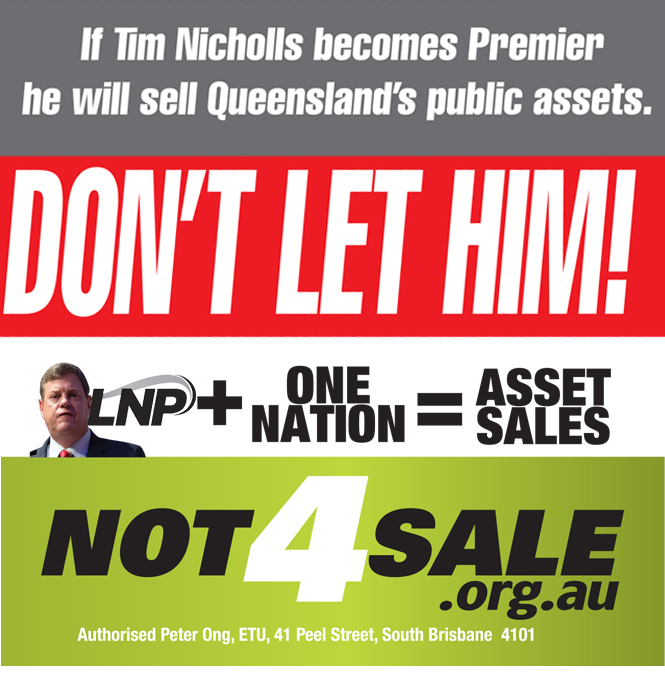 Read more:
Campbell Newman was not happy when Tim Nicholls tried to distance himself from being the architect and driving force behind the Strong Choices campaign to sell Queensland's electricity assets at the last election! Here's the link to his comments in the Queensland Times:
https://www.qt.com.au/news/campbell-newman-hits-out-tim-nicholls-asset-sales/3152055/
Mr Nicholls certainly was the man in charge of pushing asset sales through Strong Choices, as his own media statements prove:
http://statements.qld.gov.au/Statement/2014/10/16/jobs-and-economy-to-grow-through-strong-choices
He spent much of his time as Campbell Newman's Treasurer defending the Strong Choices campaign to sell assets:
https://www.thechronicle.com.au/news/treasurer-tim-nicholls-responds-strong-choices-cri/2239916/
Since he became LNP leader by knifing Lawrence Springborg last year Mr Nicholls has tried to pretend the whole Strong Choices campaign didn't even exist!
https://www.brisbanetimes.com.au/national/queensland/lnp-leadership-spill-tim-nicholls-says-strong-choices-is-in-past-20160505-gomu7a.html
But only three years ago Mr Nicholls was saying asset sales was the only way to pay down debt and invest in infrastructure other than cut services or raise taxes!
http://southburnett.com.au/news2/2014/04/strong-voices-at-strong-choices/
Don't let Mr Nicholls back in charge of Queensland – we can't afford the cuts to services or asset sales he has planned!